And then my heart with pleasure thrills
and dances with the Daffodils."
Such ar
e the final lines of William Wordsworth's "I wandered lonely as a cloud" that holds the poignantly poetic meditation inspired by these seasonal blossoms.  As for seasonal, 'tis the season for a 40th Annual Daffodil Festival at which I know a host of daffodil lovers of all ages are volunteering, and a favorite destination has surely been a booth where my favorite FUNdraisers are selling mouth-watering grilled cheese sandwiches, tummy warming tomato soup, thirst-quenching lime rickeys, and hot chocolate as a liquid dessert!  Hopefully hundreds if not thousands of festival attendees stood in line, eager to order, no matter how long the wait.   After dancing with daffodils and mulling over the crafts and more lining the aisles of the mega-tent, it was time to indulge!
Here at home on my sabbatical, it was hard to stay away from saying, "Okay, I'm ready to sign-up for "daffodil duty", pragmatic spiritual practice that it is.  I trust that the proceeds were gratifying to all who were there and grilled sandwiches, squeezed limes, stirred soup, and poured hot chocolate.  Bravo and brava!
Perhaps Wordsworth's wanderer, having been near Hubbard Park this weekend, might have later mused with the great poet:
"I wandered lonely as a Cloud
That floats on high o'er Vales and Hills,
When all at once I saw a crowd,
A host of golden daffodils;"
 which commences this beloved verse.  To you dear William, apologies if I have offended your soul by tapping the gift of your poem for this not quite pastoral celebration.  But might we agree that daffodils are worthy of poetry and festivity however rendered?
As for my sabbatical and my musings on what I am up to.  Yesterday Dan and I saw "1945", a soul-wrenching film about what happens when an elderly Orthodox Jewish man and his son return to the Hungarian village that betrayed them and their family.  It's poignant and ever timely and showing at the Madison Arts Cinema.   Tomorrow morning, I'm headed to the Y for a "start-the-week-right" workout.  I continue to read, read, read, AND in the arena of logistics, have now booked my flight for my November pilgrimage to Vietnam.   It becomes real, when I visit Travelocity.com and key in as my destination: Ho Chi Minh City!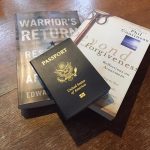 As I conclude Ed Tick's most recent work, Warrior's Return: Restoring the Soul After War, I am about to open the pages of beyond forgiveness: Reflections on Atonement, an anthology of writings that includes the work of Ed, Kate Dahlstedt (his wife and co-founder of Soldier's Heart), Rabbi Michael Lerner, Arun Gandhi, and others who have walked this path.
With growing mindfulness and love all around,
Jan