Jan's blog – 5-15-18
From here to there is rarely a straight line.  Starting point and destination shift.  Dots are there for the connecting.  We don't visit all of them, for they are infinite in number, each an option, a possibility.  So it has been with the here to there of my sabbatical—a time of rest and renewal, reconnection with family and friends, reading and reflection, and anticipation for phase two that includes my November pilgrimage to Vietnam.
While I have read some of the basics, such as Ken Burns and Geoffrey Ward's The War in Vietnam: An Intimate History, and have viewed in corresponding mode each episode of Ken Burns and Lynn Novick's ten-part series on that war that hasn't ended for so many of us, and have immersed myself in a span of media on that war, on trauma and healing, and on restorative justice, I have also joined Dan in connecting with family.  Just yesterday we returned from a

visit to Vermont to celebrate grandson Forrest's 8th H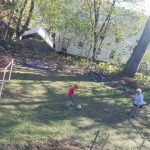 appy Birthday and a birthday party with his friends at a water park (indoors, thank you, we're not completely crazy!).  After a FULL day of water park fun, what was Forrest's next move on arriving home: "Let's go play soccer in the backyard, GramJan!"
What a gift that all three daughters wished me a Happy Mother's Day, along with Dan who presented me with a recently published novel whose story-line is the jarring aftermath of a U.S. POW returned from Vietnam.  As Dan was at the wheel en route home from Vermont, I was ensconced in the Alaskan venue of The Great Alone.  
As for our larger world, hope and outrage meld as we hear of the scores of Palestinians killed and hundreds wounded in Gaza as they protested the provocative move of the US Embassy to Jerusalem. How many more families on "the home front" will be torn apart by the immorality of this ICE age?  How many more of our teachers and children will continue to be disrespected through school budgets voted down and public education undermined by the powers that be?  Yet hope is alive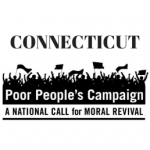 in the launching of the new Poor People's Campaign.  Yes, to all of you who marched this Monday in Hartford.   Yes, to all who marched in over 30 capital cities across the country.  And Amen, to the words of Rev. Dr. William Barber, who has taken the torch from 50 years ago and stands at the helm of this campaign: "We cannot continue to have a democracy that engages in the kind of policy violence that we see happening every day."  And Amen to our faith's fifth principle, which bids us to affirm and promote "the right of conscience and the use of the democratic process within our congregations and in society at large".
One can never take a sabbatical from "all that is our life," from the reality that we are all connected.  Yet this time out is affording fuel for my soul, for the struggle in which we are all engaged and the journey we are on.
I think of you every day.  I think of our sanctuary guests, Sujitno and Dahlia and the hope we hold for their freedom and safety.   I think of the shared ministry demonstrated by a congregation with the minster in sabbatical mode.  And I anticipate the second Sunday of June, when I will return to the pulpit of the congregation that I love.