So different are the cultures of Viet Nam and that to which most of us have grown accustomed in the U.S.  The notion of children moving far away, parents estranged from their children, elders lonely and alone is rare in this land where my fellow pilgrims and I are meeting with elders surrounded and embraced by their children, grandchildren, aunts, uncles and cousins.
The Vietnamese do not engage in ancestor worship, but in ancestor veneration. Throughout one's lifetime, family is core to identity.  I've been so taken by the richness of life for the elders we've met, and children born into what we call extended family.  How is this so?
A few years ago, amid one of the Soldier's Heart pilgrimages here, the bus bound for Black Lady  Mountain (another story for another day), broke down with a flat tire.   Its passengers—mostly U.S. veterans—emptied out into the narrow dirt road.  A diminutive older wom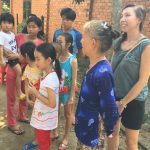 an appeared, motioning them to come to her home for tea.  How to believe that the same men who had been on "the other side" were now warmly welcomed by this woman whose brother had fought and died on that side?  Witness Madame Ky and her beautiful family, now welcoming us. Such is the nature of the Vietnamese toward Americans ready to experience such grace.
I can still see the fierce love in his eyes, hear his uproarious laugh, and witness the deep jagged scar in his side (imprint of an M16). Tam Tien is imprinted in my heart. A Viet Cong veteran, he has welcomed Americans, including U.S. veterans of the American War, to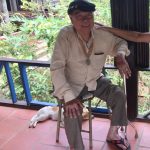 his family compound on the banks of a tributary of the Mekong River. Land laid waste by American bombs has been brought back to life by Tam Tien, his family, and Mama Nature and has become Song Tien.  While luxuries are sparse, hospitality is abundant and the evidence of well-knit family is pervasive.  With Tam Tien and one another, we dined every night in a gazebo on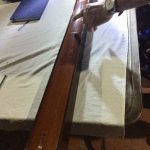 cuisine that spanned elephant ear fish and rice to fresh mangos and dragon eyes (think lychee nuts) and above all, captivating conversation and more.  Imagine an evening that held a concert of folk artists dancing, singing, and performing on instruments that included this one-string specimen!
Ah yes, I did take a swim with others in that tributary of the Mekong, and early one morning knew it was time for a swim across the river. BUT I forgot to spot my point of departure; thank heavens for the Song Tien sign rising from the greenery as my daytime "lighthouse".
The children have won my he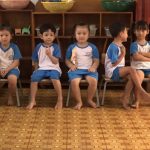 art—and the focus of my photography!  Witness a moment of our visit to the kindergarten built by Soldier's Heart contributions, not far from Song Tien. These little ones are becoming adept in English as well as the wisdom of kindness from the outset.
Jump ahead to now, Armistice Day, one hundred years after that agreement intended as the outer bookend of "The War to End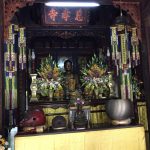 All Wars".  Our group held a circle ceremony of sharing, prayer, reflection, and incense at an altar in the pagoda (home compound) of Thich Nhat Hanh, on the banks of the Perfume River near Hue.  May all who died in that war now be at peace. In the customs of the Vietnamese, they would no longer be recognized at the family altar, for after 100 years (4-5 generations), their souls would have entered new beings.
May the souls of us all find new ways of being in mindful and compassionate kinship—
Love and Hoa Binh (peace),
Jan